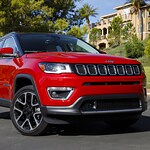 You will be able to ride in style if you have the Jeep Compass. Not only does the vehicle look great, but it also has nice interior features. The vehicle has been designed with your comfort in mind. This vehicle has heated steering wheels. You will be able to drive in comfort even when it is cold outside. Your steering wheel will gently heat up.
Many people like to ride down the road listening to good music. You will be able to enjoy your tunes even more if you have a Jeep Compass because it comes with an Alpine Premium System. It has nine speakers and a 12-channel 506-watt amplifier. Your next trip will be music-filled.
It is important to test drive a car before you buy it. Not only does this allow you to see whether the car is a good fit, but you can also try out the features. Visit our dealership.