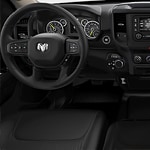 Out of all of the new light-duty pickup trucks for sale, the new Ram 1500 is one of the most popular. Its popularity with truck buyers today is owed in part to its numerous impressive durability features. Discover what these features are and how they work to your advantage.
To start, the new Ram 1500 has a multi-function tailgate for easy loading and unloading of cargo. Its gate features a split door that swings open from the middle. The swing of the cargo doors lets you easily load everything from building materials to hays and small UTVs.
The all-new Ram 1500 also has a towing capacity of more than 12,000 pounds, making it well-suited for towing livestock trailers, as well as heavy vessels like fishing boats or large moving trailers. It has built-in trailer sway control so you avoid your trailer from going into the other lane of traffic or veering onto the shoulder.